There's a 'Pride and Prejudice' for that
Depending on your mood, there's a "Pride and Prejudice" adaptation out there for you, whether in movie or serial form. And the ones below aren't the only adaptations out there either!
Classic: You can't go wrong with the 1995 adaptation, written by Andrew Davies, who — for better or worse — sexed up the material with the infamous Darcy wet-shirt scene. Like it or not, Colin Firth and Jennifer Ehle defined the characters, and all other iterations are compared to them.
Hidden gem: The 1980 adaptation gets overlooked, but it features compelling turns by Elizabeth Garvey and David Rintoul as Lizzie and Darcy. This is one to discover if you haven't seen it.
Boldest: "The Lizzie Bennet Diaries" brings "Pride and Prejudice" to the 21st century with this vlog-format web series that transforms Lizzie into a struggling communications grad student and Darcy into a hipster one-percenter. 
Music and dance: Gurinder Chadha's Bollywood take on Austen, "Bride and Prejudice," stands out for its soundtrack and dances.  Warning: Once "No Life Without Wife" gets in your head, it may never leave. And as beautiful as traditional English country dances are in period adaptations, the dances in this film make you want to get up on your feet, too.
Lighthearted: Okay, so it's not the most faithful adaptation — the costumes alone! — but Greer Garson and Laurence Olivier bring the chemistry in the 1940 adaptation, written in part by Aldous Huxley. Best scene in this adaptation: Darcy mansplaining (a fully capable) Lizzy about archery. 
Outlandish: 2016's "Pride and Prejudice and Zombies" is an adaptation of Seth Grahame-Smith's supernatural adaptation of "Pride and Prejudice"  in which the Bennets and Mr. Darcy must fight off zombie hordes. If you're in the mood for an inventive mashup, this is one to watch. Just close your eyes during the gory parts.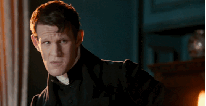 Funniest Collins: Mr. Collins is the punchline in most every adaptation of "Pride and Prejudice," but if you're looking for the funniest, my money's on Matt Smith as the bumbling parson in "Pride and Prejudice and Zombies." Just watch the outtakes if nothing else.
Confessionals: If you're into heroines pouring out their souls, it's a tossup between "Lizzie Bennet Diaries," with characters who look directly at the camera, and "Bridget Jones's Diaries," whose heroine loves journaling like nobody's business.
Fight scenes: "Pride and Prejudice and Zombies" wins the prize for fight scenes. Sparks fly when Lizzy and Darcy spar — not just figuratively but literally, weapons in hand. And it's not just Lizzy who enters the fray — the Bennet sisters are a force to be reckoned with.
2005 "Pride and Prejudice"
Nature: The cinematography in the 2005 adaptation really highlights the natural backdrops to the action. You can't help notice the wild beauty of England when you see Lizzy on a rocky outcrop or Bingley practicing his proposal with Darcy by an idyllic pond.
"The Lizzie Bennet Diaries"
Female friendships: "Lizzie Bennet Diaries" explores complicated female relationships from many angles. Lizzie grapples with change as Jane's romance with Bingley blooms; Lizzie and Lydia try to find common ground; Lizzie and Charlotte navigate changes in their friendship and in their professional partnership as the series progresses. But their bonds, though tested, are unbreakable.
Do you have a favorite adaptation? Let us know!